It is vital that diagnostic thermographic images are interpreted by well-trained and experienced personnel in the health care field (MD, DC, DO, etc.).
Interpretation of thermographic images for a clinical impression should only be made by health care providers who are licensed to diagnose. The doctor should also be board certified as a clinical thermographer, diplomate, or fellow from a reputable authority.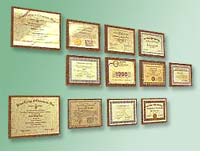 The only currently active and recognized organizations are as follows:
International Academy of Clinical Thermology
International Thermographic Society
American Academy of Medical Infrared Imaging
American Academy of Thermology.
Additionally, in the case of breast thermography, advanced post-graduate training specifically addressing breast imaging is necessary due to the level of complexity associated with this region of the body. If you visit a lab that does not have a qualified doctor on site, please ask who is reading your exam and what qualifications they have. This doctor should also regularly test or participate in the quality control of the lab you have visited.
Our association occasionally sees examination reports with no physician name or signature. These reports are suspicious and it is recommend that you exercise caution with regard to clinical decisions based on such a thermogram.
Any individual wishing to perform thermography in their office – with the images sent for outside interpretation – should be certified as a Clinical Thermographic Technician by one of the organizations listed above.
The IACT has the most stringent requirements for certification of all of the above associations. A listing of the criteria currently required by the IACT for the various levels of certification in clinical thermography may be found at the following link:
Clinical Thermography Education and Training.
We hope that this information has been helpful. If you have any further questions, please feel free to contact us at info@iact-org.org